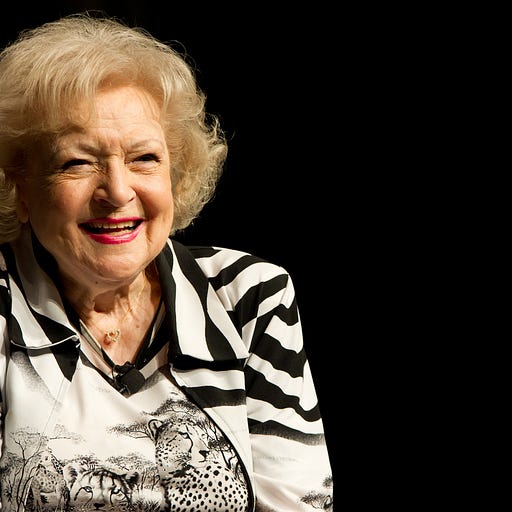 Dec 31, 2021 • 4M
Betty White Was for the Ages
Her authenticity gave space for ours, too.
Charlotte Clymer is a writer and LGBTQ advocate. You've probably seen her on Twitter (@cmclymer). This is the podcast version of her blog "Charlotte's Web Thoughts", which you can subscribe to here: charlotteclymer.substack.com
Well, it seems 2021 decided to get in one final gut punch.
Betty White's agent confirmed to People this afternoon that the 99 year-old iconic entertainer died this morning in Los Angeles, although speculation had begun swirling last night when Steve Martin put out a two-tweet loving anecdote on her that was quite sweet but felt vaguely eulogizing.
You're going to hear a lot about Betty White, but I don't think you'll hear this nearly enough: young people loved her.
However you define the youth in this moment—whether that's anyone under 40 or kids still in high school—Betty White is beloved among young folks.
Betty White has always been beloved among young folks.
Betty White transcended generation. She was an entertainer well-known and respected and loved by everyone, regardless of age. That, alone, is a remarkable achievement for someone whose life spanned eighteen presidential administrations.
In 2010, more than half a million fans joined a group on Facebook urging Lorne Michaels to have Betty White host Saturday Night Live. It worked. On May 8, 2012, she hosted with musical act Jay-Z.
In her opening monologue, she said, "When I first heard about the campaign to get me on Saturday Night Live, I didn't know what Facebook was, and now that I do know what it is, I have to say it sounds like a huge waste of time."


The episode earned Saturday Night Live its highest ratings in 18 months and won Betty White the Emmy for Outstanding Guest Actress in a Comedy Series.
One of my favorite political gaffes was when Mitch McConnell attempted to pander to the youth vote in 2013 by comparing Democrats to "The Golden Girls", which is hilarious because that show is absolutely beloved among young people, particularly LGBTQ young folks, many of whom, myself included, find it healing to watch folks from a different generation, women who could be our grandmothers and great-grandmothers, speak movingly and compassionately about LGBTQ people.
In Central Texas in the mid-90s, when LGBTQ allyship was certainly less present on television, I remember having a feeling of safety and comfort while watching it as a kid.
This was not a soft cause for Betty White. She fiercely believed in supporting LGBTQ people. The folks over at QueerForty put together a list of some of her more outspoken moments as an ally.
It's easy see to why young people love Betty White. She wasn't trying to be someone she wasn't. In fact, her artistry seems to invite people to be themselves.

Tonight, as you raise a glass to the new year, also make a toast to Betty White, who never gave us anything other than her authenticity and demanded a world for ours, too.
---
Hi, I'm Charlotte Clymer, and this is Charlotte's Web Thoughts, my Substack. It's completely free to access and read, but if you feel so moved to support my writing, please consider upgrading to a paid subscription: just $7/month or save money with the $70/annual sub. You can also go way above and beyond by becoming a Founding Member at $210.