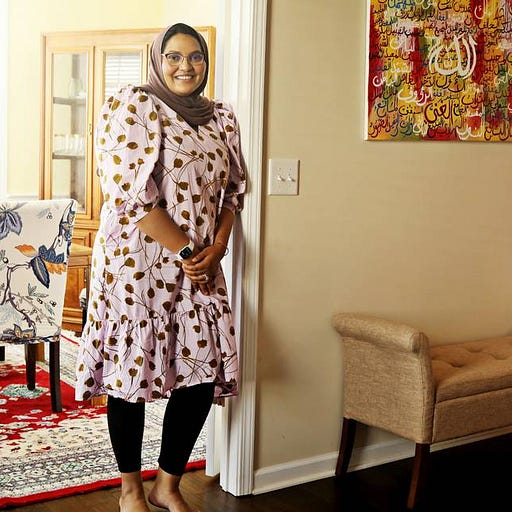 Dec 27, 2021 • 5M
History Out of Tragedy in North Carolina
Nida Allam is a rising star.
Charlotte Clymer is a writer and LGBTQ advocate. You've probably seen her on Twitter (@cmclymer). This is the podcast version of her blog "Charlotte's Web Thoughts", which you can subscribe to here: charlotteclymer.substack.com
I believe it's impossible not to like Nida Allam.

In our conversations, the 28 year-old elected official comes across as thoroughly honest, hardworking, and brilliant. Did I mention she's a genuinely kind person?

That, too.

Last year, Allam was elected to the Durham County Board of Commissioners in North Carolina, receiving the most votes of any commission candidate (voters could choose five), the first Muslim woman elected to any office in the state AND completing the first all-woman Board of Commissioners in the county's history.

This followed her historic election in 2017 as one of the Vice Chairs of the North Carolina Democratic Party and appointment as Chair of the Durham Mayor's Council for Women, the first Muslim American to achieve both.

You might be wondering: what's the rush? Why is this 28 year-old accelerating into her political career?

On February 10, 2015, a racist terrorist whose name I would rather not mention murdered 23 year-old Deah Shaddy Barakat, 21 year-old Yusor Mohammad Abu-Salha, and 19 year-old Razan Mohammad Abu-Salha, all of whom were either studying or had graduated from North Carolina colleges.

The terrorist lived in the same apartment complex as the victims and claimed the murders were spurred over a supposed parking dispute. Despite a well documented history of anti-Muslim posts on social media by the terrorist, investigations into the shooting felt there wasn't enough evidence to support hate crime charges.

Allam had been a bridesmaid in Barakat's wedding only two months prior to the shooting. She waited in the parking lot of the apartment complex with friends and family until midnight to find out from police if their loved ones had been confirmed dead.

Her response to this unimaginable, violent tragedy was to be part of the solution, and in her mind, representation in elected office was the way forward. And she had no time to waste.

The district she's running to represent, NC-06, is not only overwhelmingly Democratic but more than half of it is composed of Durham County, where Allam had an incredibly strong and successful showing in her election last year.

In talking to Allam, what I love most about her is the full heart she seems to place at the center of this campaign. Yes, she would certainly make history as only the third Muslim woman elected to Congress, but for her, serving in such a historic context plays a distant second to her insatiable desire to help others.

To put it plainly: I'm quite a fan of this young leader, and it's why I'm supporting her for Congress.

Tonight, I'll be chatting with Allam on Twitter Spaces, a new function of that terrible hellsite that permits folks to gather in audio rooms for conversation. It's probably the best new function Twitter's ever introduced.

Our conversation will begin at 6pm ET, and I hope you'll join us. I think you'll see why Nida Allam makes me excited for the future.

In the meantime, please donate to her campaign. It's arguably the best possible single campaign investment you can make toward Midterms.
---
Hi, I'm Charlotte Clymer, and this is Charlotte's Web Thoughts, my Substack. It's completely free to access and read, but if you feel so moved to support my writing, please consider upgrading to a paid subscription: just $7/month or save money with the $70/annual sub. You can also go way above and beyond by becoming a Founding Member at $210.