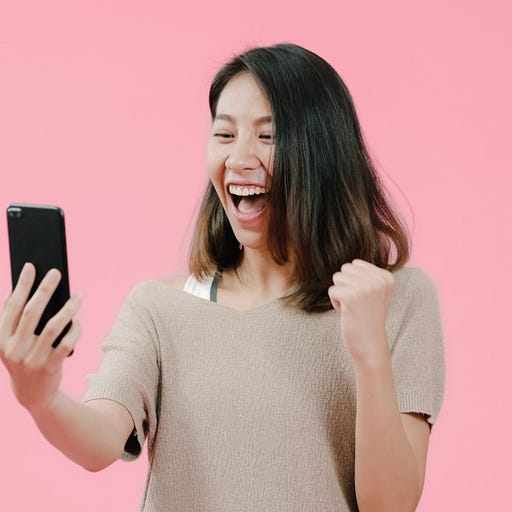 Jan 11 • 6M
Introducing... The Goods
Because we could all use a smile.
Charlotte Clymer is a writer and LGBTQ advocate. You've probably seen her on Twitter (@cmclymer). This is the podcast version of her blog "Charlotte's Web Thoughts", which you can subscribe to here: charlotteclymer.substack.com
I'll be completely honest: I've been pretty down lately, and I imagine so have many of you. The reasons are obvious, and there's no need for me to itemize them and bum us out further right now.

But this has inspired me to create something that reminds us of joy and hope and humanity in the world. I think we need that. I think we need to be reminded of the things that justify our collective struggle for a better world.

With that spirit in my mind, allow me to introduce The Goods, a weekly newsletter component of Charlotte's Web Thoughts that will focus on some of the good that's happening around us.

Although today is Tuesday, I'm considering publishing further editions of The Goods on Mondays or Wednesdays, which, in my mind, are the strongest candidates for shitty days, when you may need this newsletter the most. But for now, this Tuesday will do for a greeting.

Here's a pretty fun aspect: if you see anything that will make folks smile and you believe deserves a place in this newsletter, send it to me (cmclymer@gmail.com), and I'll be sure to give you a shout-out.

And without further ado… The Goods.

So many barriers have been broken by amazing women in the past week.

On Friday, Amy Schneider became only the fourth contestant in history and the first woman to surpass one million in winnings on Jeopardy. Schneider, an engineering manager, has captivated the country with her active 29-game winning streak. She's also a proud trans woman, and I cannot tell you how happy it makes me to see her shining. I admit that I cried reading this New York Times report on her record-breaking Friday evening, and I imagine many trans folks did. Can you guess why? Just read it, and think about how the story is framed. Shout-out to NYT reporter Julia Jacobs.

Women know baseball. From Doris Kearns Goodwin to Ana Reyes to yours truly, there's a lot of love for baseball among women, but there sure haven't been many women in the Big Leagues. That's changed dramatically in the past four years, with 22 women now in on-field coaching or player development roles in professional baseball, up from just three in 2017. Notable among them are Kim Ng, the first woman general manager (with the Miami Marlins); Alyssa Nakken, the first woman full-time major league staff coach (with the San Francisco Giants); and Bianca Smith, the first Black woman to be a staff coach for a professional team (with a Boston Red Sox' minor league team).

On Monday, yet another barrier was broken. 34 year-old Rachel Balkovec was hired as the manager (equivalent to head coach) of a minor league team in the New York Yankees' organization. Balkovec has long experienced being turned away from professional baseball by skeptical men, going so far as to present her name as "Rae" on applications to avoid being dismissed from the pile.

This is, of course, the highest coaching position a woman has achieved in the minor leagues. And who knows? Knock on wood, but it may not be too long before we see the first woman major league manager.

Last night, Minneapolis Councilmember Andrea Jenkins became the first Black woman and first openly-transgender person to be elected President of the Minneapolis City Council. It was a unanimous vote in favor because, well, she's amazing. Jenkins spent most of her public service career as a vocational counselor and policy aide for the City Council. In 2018, she made history as the first Black openly-trans woman elected to public office in the United States.

This also makes Councilmember Jenkins the highest ranking openly-transgender municipal elected official in American history.

That's all I'm selecting for this first edition of The Goods, but as a reminder, if you have some great news that you'd like to get out into the world, send me an email! I love hearing from subscribers, especially when it's heartwarming. <3
---
Hi, I'm Charlotte Clymer, and this is Charlotte's Web Thoughts, my Substack. It's completely free to access and read, but if you feel so moved to support my writing, please consider upgrading to a paid subscription: just $7/month or save money with the $70/annual sub. You can also go way above and beyond by becoming a Founding Member at $210.